Even though the
Super Junior
list of future
baby daddies
is quite competitive, there is absolutely no doubt in my mind the man I want to marry. And that man is none other than
Leeteuk
.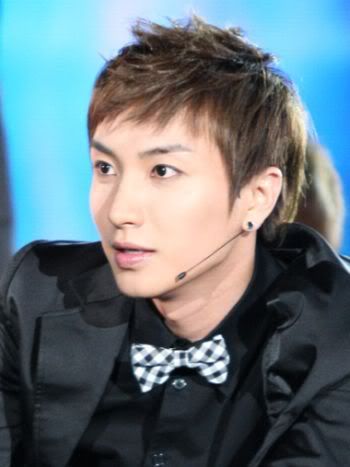 I don't care if you're sometimes feminine. Still love you, boo.



He grew on me, though. It was not love at first sight for me. As I've mentioned before, I was initially attracted to
Ryeowook
and his cute little five-foot-six, pocket-sized self. But after watching his brief appearance in
Full House
, in which he says in perfectly-Asian-accented-English,
"I love you,"
I was hooked. Not to mention his hilarious slash embarrassing display of entertainment in the
last episode
.
I don't think life would ever be boring with Teuk around. This boy constantly makes me laugh, regardless of what he's doing. Whether he's demonstrating his
wonderfurr Engrish
, hogging the
spotlight
on
Star King
, dressing up and dancing as a
dinosaur
, his inability to
drive
, his wicked virtual piano playing
skills
, his
antics
with
Boom
, and especially all of the
Sukira
videos. Even his laugh makes me laugh, because it is the greatest laugh to ever have been laughed in the
history of all laughs
. (How many times did I write "laugh" in that last sentence?)
Seriously, I have so many videos on YouTube marked as favorite of this man. I can't get enough of him. I am fully aware that it sounds totally stalker-like and absolutely insane, but it's true.
And I think that Teuk would make a fantastic husband. He's sweet, incredibly caring, warm-hearted, with a great sense of humor. All of those are excellent qualities for a future husband. Plus, Teuk totally looks like the type of hubby who will bring you home flowers at the end of the day, just because he felt like it. When you're sick, he'll do his best to either cook you chicken noodle soup (or the Korean equivalent) despite the fact that he can't cook well. Granted, he'll probably hover over you while you're lying in the comfort of your marital bed in a state of near-death, and you'll probably become very annoyed by it. Because the last thing you really want so close to dying is someone coming in to check on you literally every two minutes. It's just because he cares, though, and you'll have to tell yourself, "At least he's here." At the end of his long, long, LONG work days (because he is a work-a-holic and somewhat of an
attention whore
), you can be waiting with a bottle of wine and warming massage oil to help him relax, and then proceed to strip his clothes off with your teeth. Because if you're married to Leeteuk, a nightly stripping session is mandatory. Just think of how he'll
repay the favor
.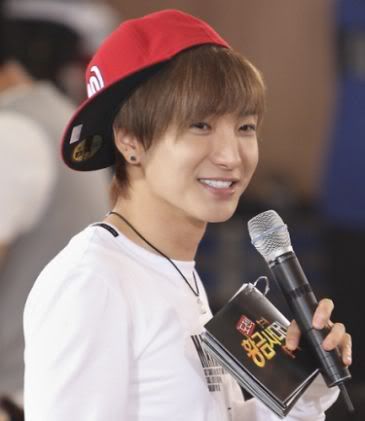 I want ten of your babies. Let's make it happen.
And, unlike
certain others
in the K-Pop world, I do not have a love-hate relationship with this man. It's pure love, folks.
Yours,
The K-Pop Addict