I don't know why I woke up so suddenly at 4:30 in the morning, but I've been unable to fall back asleep since then. So after laying in bed for thirty minutes, I said screw it and turned on the laptop. And as I logged into YouTube it kindly suggested this amazing new treasure in the form of a boy band that I had never heard of or knew existed.
Once again, my Twitter timeline has neglected to inform me of new badassery in the K-Pop scene (and yes, I just made up a word). I'm deeply upset by this because it has not given me the right amount of split-second time to call dibs on my new favorite of the month.
Whether or not
N.Sonic
is truly bad ass or just pretending to be is irrelevant. We all know groups have to earn their bad ass stripes in this business, and sometimes a single member can surpass his group mates and be the sole focus of my undying love and devotion until someone else with equal and/or slightly more bad ass value comes along to be my new little pet that likes to bite.
BUT CAN YOU GUESS WHO MY FAVORITE IS? HUH? HUH? CAN YA? CAN YA?
The choice is obvious if you know me. Black J -- which I have to say is the one of the most bad ass stage names shrouded in mystery I have ever heard -- has captivated me. And if you don't know who he is, he's the one with the tattoo in the video (or the one on the far right). HE SEALED THE TKPA DEAL WITH THE TATT, OKAY?? Don't judge me.
And of course, OF COURSE, he has to be the maknae. What is it lately with these young guys coming in and claiming my attention and precious blog space? If this is a sign that I am getting old, oh please make it stop.
AND HE'S A RAPPER. OH SWEET MOTHER OF THE K-POP GODS WHY DO YOU DO THIS TO ME.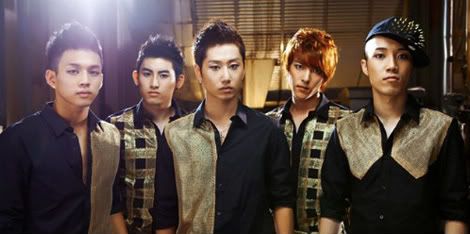 From left to right we have, Black J, Eunho, J.Heart, Jonguk, and Byeol. They're quite delicious, aren't they?
The song "Super Boy" is really good for a debut song. Can they do better? Oh, yes, absolutely. It's nowhere near comparable to the half-boxing, half-puppy debut that Dalmatian had, but at the same time, in my highly biased opinion, it's still not even close to the likes of BEAST and MBLAQ's debuts. The overall style is really good, nothing atrocious to make us all go WTF?!
And N.Sonic scores some brownie points for going shirtless and dancing in the overhead sprinklers. I think someone must have been paying attention when I said FOREVER AGO that a fantastic and sure fire way to make a music video go from great to "oh-my-God-that-was-un-fucking-believable-oppa-have-my-babies" is flesh and water.
Check out the video that's apparently been around since October from a group that my readers and Twitter followers totally "neglected" to tell me about. I know what happened. You took one look at Black J and thought, "Rapper. Tattoo. Hot. Bad Ass Potential. MINE." I don't blame you, though ... I would have done the same.
Watch "Super Boy" by N.Sonic and get used to these rookies because I'm near obsession.
TKPA