You think you have what it takes to be the next K-Pop idol?
MBC Star Audition is holding it's second season of auditions in Los Angeles this year, so if you're able to hop on a plane and make your dream of singing on stage with your oppa become a reality, then there shouldn't be anything stopping you!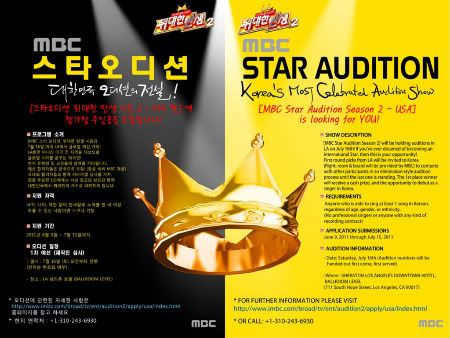 (to see this bigger, click
here
)
When: July 16, 2011
Where: Sheraton Los Angeles Downtown Hotel (711 South Hope Street, Los Angeles, CA 90017)
Details: First round picks will be flown to Korea courtesy of MBC in an elimination-style process until there is only one contestant standing. First place winner wins a cash prize and a dance to debut as a singer in Korea.
Requirements:
Anyone who can sing at least one song in Korean, regardless of
age, gender, or ethnicity.
(But if you're a professional singer, already under contract, move along and let someone else's dreams come true).
Application Submissons:
June 9th through July 15th (so hurry up!)
For further information, check out the
Facebook
page
OR
visit
here
OR
you can call +1-310-243-6930
Thanks to Derek Lee from
RPOV
for emailing me the information so I can pass it along to all of you!
Good luck and if you make it to Korea, be sure to let me know! :)
TKPA