Papa YG must be extremely happy in his home life lately to give us two new music videos from BIGBANG in one week. This coming from the man who likes to troll us fangirls and fanboys and smack us right back into our place.
"Bad Boy" is amazing. Simply put.
I really love the beat of the song. It's very different from any other, not only K-Pop song, but also for BIGBANG. You can't help but dance when you listen to it, whether you're dancing well or like a fool, it just has this great flow to it. I love the raps in it, I love the vocals. It's just perfect from beginning to end.
I fell in love with this song when the teaser came out for it, with G-Dragon in the studio just chilling and just being his cocky-self.
So when the video came out I knew that I was going to love it. I tried my best to hold off judgement of what they were wearing when the behind the scenes paparazzi-esque video came out (that lasted two seconds before I took to Twitter), but I was waiting to see what it all looked like pieced together in the video.
And surprisingly, no real complaints ... obviously aside from GD's Marilyn Manson hair, Taeyang's spray painted polka dot jeans and ugly ass hobo hat ... no complaints.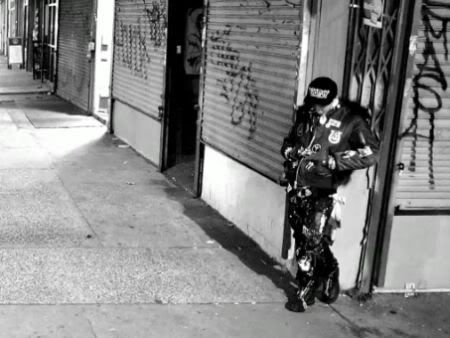 There's my bb. There he is, leaning up against that corner, looking like a true New Yorker bad boy street thug, with that one-third aviator, one-third boy scout, and one-third muppet jacket. You lookin' good, GD.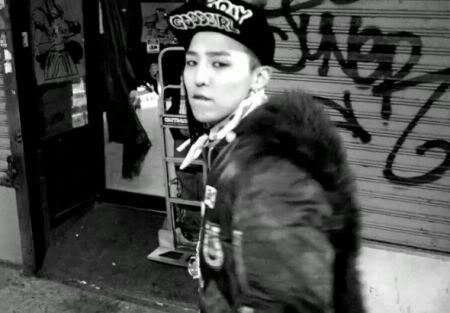 In all seriousness, when they featured GD on the left side of his face, I went batshit crazy over how flawless he really is. Whenever the wind blew and let that ... thing be seen on camera, then it was like someone threw me off the Titanic and into the ocean and it kind of killed it for me. So for the rest of this post, we will forget about the comb-over abomination that is weaved into GD's scalp and only focus on the left side.
One thing I did have a problem with is that the girls in the video were super boring and showed zero emotion. Like, if you really don't want this guy who is singing that he's sorry he's a bad boy hanging all over you, you're not going to just shrug your shoulders to get him off you. No, you're going to look pissed, you're going to storm off, you're going to possibly take out the pepper spray in your purse and use it on him if he doesn't get the hint.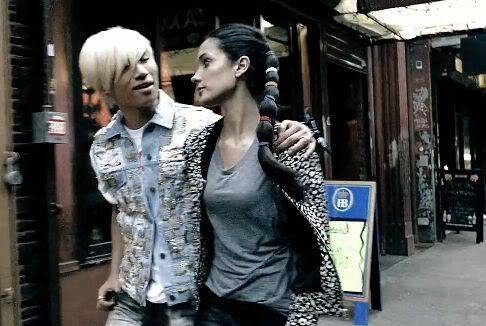 Not that I advocate pepper spraying Daesung in the face, but you get the point.
Papa YG, so glad that you got more than one girl for the group this time around (unlike "Blue" and every other BIGBANG video before it) but next video can we please work on not having zombie models in your video? Throw in some eye rolls, some looks of disgust, some head turning or SOMETHING other than a lame half-hearted push.
By the way, I see Tae-Tae likes them young. (Good thing I'm younger than him ... by two months).
GIRL FROM THE "BLUE" VIDEO. DO YOU KNOW WHO YOU ARE PUSHING AWAY FROM YOU?! So unworthy to be in that fine man's presence.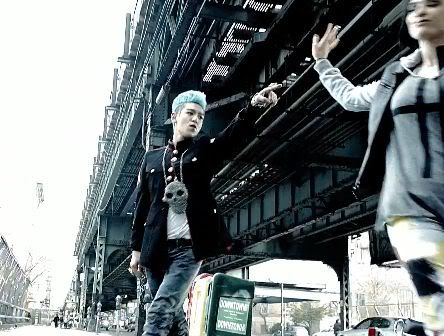 DO YOU KNOW WHO YOU ARE WALKING AWAY FROM, MOTORCYCLE PATCHWORK JEANS GIRL? YOU ARE WALKING AWAY FROM THE OFFICIAL PIMP T.O.P, AND THAT IS A NAME THAT HE GAVE HIMSELF BECAUSE IT'S THE TRUTH. IF T.O.P WITH BLUE HAIR OR RED HAIR OR FUCK EVEN IF HE IS BALD, WANTS YOU, YOU GROVEL AT HIS FEET AND SAY THANK YOU AND FEEL BLESSED THAT HE IS EVEN LETTING YOU BREATHE THE SAME AIR AS HIM. YOU DO NOT WALK AWAY FROM THIS PERFECT MAN.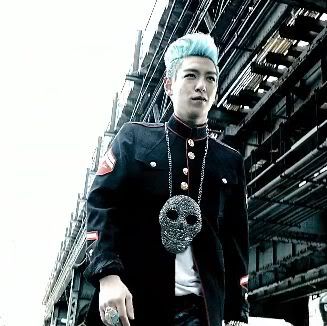 Flawless.
I have a feeling I will fangirl attack him during their world tour.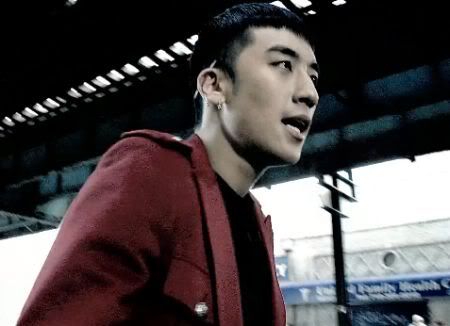 Seungri looks really awesome, once again. I am loving this look on him and I firmly believe it needs to stay. He really came into his own these past two videos and I am super excited about what he will have to offer in the future.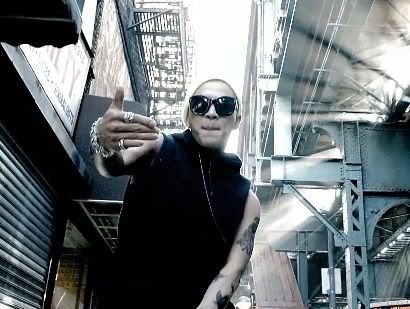 And does anyone else think Taeyang would look hot with a tattoo? Not to Jay Park extremes, but like maybe one on his back or like on the side of his rib cage? Mmmm.
Check out the new video for "Bad Boy" by BIGBANG!
TKPA