If you did not see the link that I retweeted this weekend, you're missing out on what is easily considered top five greatest things I have ever seen or have had happened to me. Yeah, it's that good, folks.
Pay attention to what is in Peter's hands at 0:32.
Look familiar?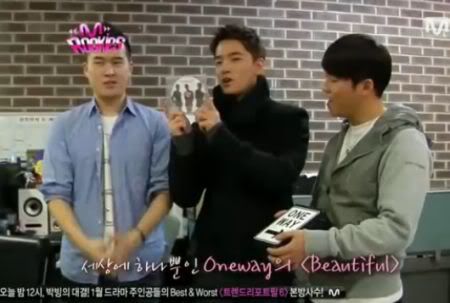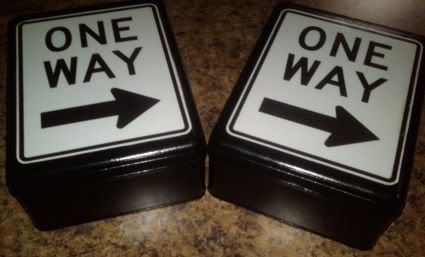 OH. MY. GOD.
I know it shouldn't come as a shock, considering I sent it to them .... but they actually never tweeted that they received it (which they normally do when fans send them things), so I thought it was lost among the endless packages they received, if it even reached them at all. And then, to see it in Peter's hands on national Korean television ...
Even now I get all giddy and slightly teary-eyed and I just thank God that I have that Martha Stewart tendency sometimes.
But more importantly ... I NEED TO KNOW WHAT THEY ARE SAYING. ASAP.
This entire thing has me confused. When I first watched it on my phone, I was like "Aw, they're showing what fans had given them. Someone made them like a mix-tape CD or something and THERE'S MY TIN! HOLY SHIT MY TIN!" And then when I watched it on a computer (paying more attention) I saw that they were making a CD, the custom label saying "One Way's Special Gift 'Beautiful'." So I'm even more confused as to what is going on and I really really wish that they had a freaking subbing team who would have already translated this so American girls like me who can only say "hello" and "thank you" and "I love you" in Korean won't have a freaking panic attack trying to figure out what is being said.
One Way, what are you doing to me?
If you know what is being said or you know anyone who can translate it, please please please please comment below with what's being said.
Oh and to Chance, and Young Sky, and Peter ... thank you for showing it off on TV :)
OKAY NOW GET TO TRANSLATING OR ELSE I QUIT BLOGGING. YEAH, HOW DO YOU LIKE THAT ULTIMATUM?!
TKPA
**EDIT**
I had the awesome @mizz_julie from 21BANGS translate what the boys were saying.
Young Sky: In order to pay back our fans for supporting, we thought a lot of ways and we decided on this.
Chance: How are our fans when we're up on stage?
Peter: They like it.
Chance: Ee'll make it an English title and make it "Beautiful." There's only one copy of this CD and it's finished.
Young Sky: We recorded, produced, wrote the lyrics and everything so please listen to it well.
Peter: Be happy in 2011 with our music.
WTF DOES THIS MEAN, ONE WAY?!?!?!?! Who is the CD for? A random fan that you'll pick on Twitter? For me because you're holding one of the tins I made you?
Oh my God, I'm so confused. This is giving me a headache.
Everyone tweet this post to the boys and maybe they'll give us an answer. Because this is just too much for my little fangirl heart to handle.
Thank you, Julie :)