BEAST's new MV for their Japanese version of "Bad Girl" was released the other day, and judging by some comments I pulled from a few different uploaded versions, I don't feel left out in my thinking that this version fell short from the original, Korean version.
Like fell off the same tree and rolled down a hill and off a cliff and into the bottom of a shadowy, scary gorge where it splattered all over the rocks. Okay that was harsh. It came to a more dramatic halt at the cliff's edge, but it still is no where near the tree.

It isn't horrible, I actually really like some elements from it that I wished they could have thought of when they debuted. It's just different. And naturally, the only way to settle such a dispute as to which video is more awesome is to break it down and take a vote!
STYLE
It is no secret that I hate what BEAST's stylists do to them, and it seems that Hyun Seung gets the most of the unfair cray cray style. When I find something that I do like on them, it's a rare occasion and maybe even a cause for a big ass celebration party. I really loved their style in the Japanese version, and despised it in the Korean version.
However, Dongwoon's hair situation needs to be dealt with ASAP, because it just isn't working for me. Comb it differently or whatever you have to do, as long as it doesn't make you look like Justin Bieber, okay?
In my book, Japan wins. Simply because they look like grown men versus another cutesy boyband designed to be adored by adolescent girls. They catered to their legal lady fans on this one.
CHARISMA
There is no freaking question about it. They look exhausted, depressed even. I really don't understand where their smiles went. Even Hyun Seung ... the most smiley person in the group looks like you kicked his whole litter of puppies and knocked his ice-cream cone out of his hand. AJ isn't nearly as into the video the second time around as he is the first.
They all look like they just don't care. And that's really unfortunate. If they came into their Japanese debut with the energy that made us all--internationally--fall in love with them, everything would be wonderful. But if I was a Japanese fan and saw the drastic difference between the two versions and the lack of enthusiasm, I would be really upset.
Yes, I know they're tired and overworked, but this is still their job. Is it fair to them? Absolutely not. But plenty of other idols are just as equally overworked and exhausted, and they put on that front and wear it well for the public, for their fans.
Again, hands down Korea. A lot of this gets factored into the lack of charisma in the Japanese version, but I honestly felt like screaming at my computer screen for them to stop standing there and MOVE, DAMN IT!
Even Doo Joon, my sweet, sweet DJ ... if you watch him at 1:15, he's exhaling so hard that it comes across as exasperation, like this is pointless and stupid and there are a million other things they as a group have to accomplish and do.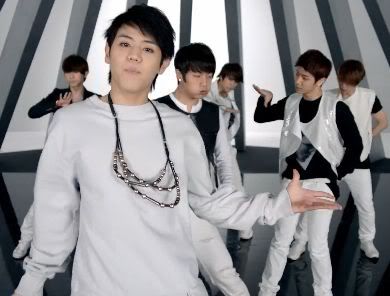 During the chorus, there wasn't much effort put into the choreography that everything seems slow and drawn out and boring. Could the director have given all of them two Red Bulls to down after seeing the first take was not up to BEAST standard or something? It's as if they forgot their choreography to this song--their debut song, something that should always be executed flawlessly because they worked so long and so hard on it--and they didn't have time to practice before shooting so it was all done from vague memory.
I just didn't feel their passion from this video, and I'm not saying it's terrible. I was just spoiled with the original so I kind of want the NEW version to surpass it and leave my mind blown. My mind was blown, but not in the wow-that-was-so-amazing! way I wanted it to be.
First, watch the Korean version below:
Now watch the Japanese version:
And leave a comment below telling me what you liked/disliked about it!