This is speculation here ... but fangirls and fanboys, I think our beloved Taeyang has himself a girlfriend. Let me start off by first saying this is in no way, shape, or form real news; I'm only a very observant fan who has noticed a few things that have led me to believe what I am about to write. So it is not a breaking news story, got it?
Secondly, I AM SO FREAKING EXCITED ABOUT THIS I AM BOUNCING IN MY CHAIR. I HAVE BEEN DYING TO BLOG ABOUT THIS SINCE TUESDAY AND IT HAS BEEN SO HARD FOR ME TO CONTAIN MY EXCITEMENT AND KEEP MY MOUTH SHUT ABOUT MY THEORIES OVER TWITTER.
I have been saying it since Solar was released that he was gettin' a lil somethin-somethin because there was a drastic change in his attitude. And every single fan noticed it, it was completely obvious there was something in Taeyang's personal life that made him truly happy.
Here is what I know that has lead me to believe that Taeyang and Lydia Paek are two little lovebirds, sitting in a tree ...
Now I think the wheels have been set in motion for a while as to Lydia coming to YGE. It doesn't just up and happen overnight, so even though she has only been in Korea physically for a few weeks now, I am pretty sure Taeyang has known her for longer. And I'm pretty sure there was an initial attraction on both ends (because who doesn't get all melty when they see Taeyang shirtless and sweaty while doing choreography? And Lydia is a pretty girl and she's cute and bubbly and she totally seems like the type of girl that Tae would go for).
I have a feeling that while he was in America not too long ago, he met up with Miss Paek a few times. I mean, he was in America for a long time. Remember when he was doing "business" for YGE while in the States? Maybe that included getting new talent?
Hmmm ... the plot thickens ...
Third thing, Lydia posted a video last week of her hanging out with Choice 37 and Taeyang. We all know how Korea is; it's very rare that a young girl hangs out with two guys all by her lonesome. (By the way, regardless of her statement saying Tae wasn't the one who cussed ... totally him). Even the way she laughed when he was being all cute while eating his Mr. Goodbar (really wish I was that piece of chocolate), you could just hear it in that laugh. So freaking cute! I just want to smush their faces together and throw rice at them!
PLUS TAEYANG'S ENGLISH IS IMPROVING. I think he's trying harder to learn the language since he's dating an American and he knows he'll have to come to America every now and then because even though South Korea is awesome, she'll get homesick.
The biggest piece of evidence came from earlier this week. Taeyang tweeted the following:
Did you know that Lydia posted a cover of that same song on September 25th? A video which is blacked out because she wants us to "appreciate the music." Um, I think it's because she was singing to our King of Foreplay. Like he was physically there and they were all cuddled and all the ooey-gooey romantic stuff.
AND THEN THERE IS THIS PICTURE SHE POSTED TO HER LOCKERZ ACCOUNT.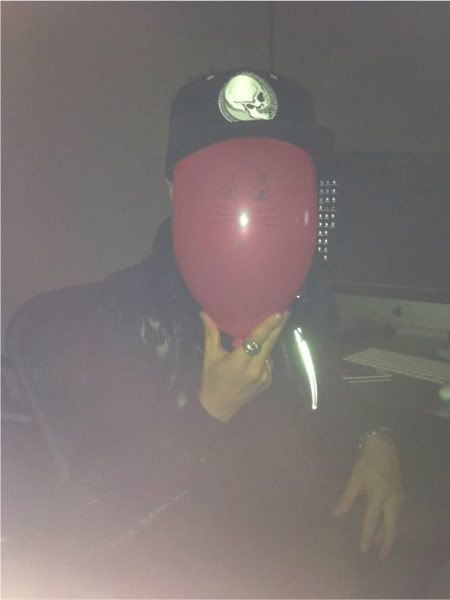 I consulted the biggest Taeyang expert I know, and oh yeah ... it's definitely our boy. And it was posted "22 hours ago" at 11 AM (EST) today (Oct. 6th), so it's recent and it means that the two of them were hanging out together around 2 AM in Korea ... nothing good happens after 2 AM, folks.
I firmly believe that Taedia exists, and I am so freaking happy for them. They can say they're just friends all they want, but I won't believe it. These are the cutest freaking people ever and they totally deserve each other. If this is all in my head, that's fine with me. But I'm not talking about how they have the same phones so they must be dating (GD and Kiko).
A part of me didn't want to bring my theory to light, because I know how crazy some fans can get. If you're reading this and you're becoming jealous and you want to start tweeting crazy things to Lydia, remember that before Taeyang is an idol, he is a person. Everyone deserves to be happy, and if he has found even a tiny amount of happiness in just being friends with Lydia, then we, as the people who say we love him no matter what, should respect that and not start sending blood letters.
AND I AM SO FREAKING EXCITED. I LOVE TAEDIA.
What do you guys think?
TKPA